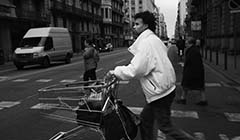 Finland / 2018 85' / B&W
English, Spanish, Wolof & French with Turkish sub.

Director | Juho-Pekka Tanskanen

Love affairs, friendships, and the police on their heels. Waiting for Barcelona follows Europe's invisible lives working with scrap metal and selling illegal replicated goods. Filmed at street level in striking black and white, it shows us a world of suffering and dreams in the outskirts of a city that's one of the most popular tourist attractions in the world.