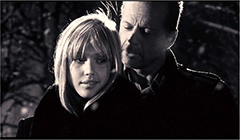 USA / 2005 124' / B&W and Colour
English with Turkish sub.

Director | Frank Miller, Robert Rodriguez
Screenplay | Frank Miller
Cast | Mickey Rourke, Clive Owen, Bruce Willis

Welcome to Sin City. This town beckons to the tough, the corrupt and the brokenhearted. Some call it dark, hard-boiled. There are those who call it home - crooked cops, sexy dames, desperate vigilantes. Some seek revenge, others lust for redemption, and then there are those hoping for a little of both in a universe of unlikely heroes still trying to do the right thing in a city that refuses to care.