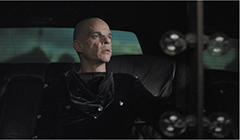 France, Germany / 2013 116' / Colour and B&W
French, English and Chinese with Turkish sub.

Director | Leos Carax
Screenplay | Leos Carax
Cast | Denis Lavant, Edith Scob, Eva Mendes

Employed by a wealthy and mysterious man, Oscar masquerades as different people and goes to various dates. This sad but funny film invites the audience to the lives of different people such as a beggar, an old man and an acrobat. Pushing the limits to the end, Carax shows that cinema is not only about telling stories.