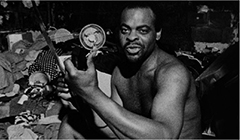 USA / 2000 82' / B&W
English with Turkish sub.

Director | Marc Singer
Cast | Marc Singer

Singer's Dark Days is about people living in the dark subway tunnel of New York and invites us to an underworld that people on earth can never imagine. The film, of which music was produced by the legendary DJ Shadow, tells the story of a life struggle that will never be forgotten.