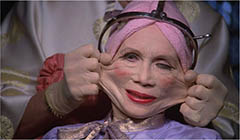 USA, UK / 1985 142' / Colour
English with Turkish sub.

Director | Terry Gilliam
Screenplay | Terry Gilliam, Tom Stoppard
Cast | Jonathan Pryce, Kim Greist, Robert De Niro

Civil servant Sam Lowry is a statistician who is exhausted by the bureaucracy and technology surrounding him. He finds peace in his dreams that isolates him from everything. He keeps dreaming about saving the same woman. And the real world where Sam lives is ruled by a computer controlling everything.