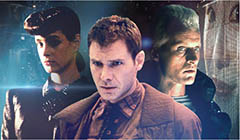 USA, Hong Kong / 1982 117' / Colour
English, German with Turkish sub.

Director | Ridley Scott
Screenplay | Hampton Fancher, David Webb Peoples
Cast | Harrison Ford, Rutger Hauer, Sean Young

Taking place in 2019, which was distant future when the film was shot, Blade Runner tells the story of robots looking exactly like humans in a dystopian world. Used for handling dangerous and illegal business, these robots are caught by the police called Blade Runners. Rick Deckard, an expert Blade Runner, takes on one last task to catch a group of Replicants from Los Angeles. However, identifying these robots looking exactly like humans in a city of 2 million people will not be easy.