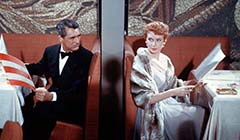 USA / 1957 115' / Colour
(+18)
English, French & Italian with Turkish sub.
Director | Leo McCarey
Screenplay | Delmer Daves, Leo McCarey
Cast | Cary Grant, Deborah Kerr, Richard Denning
Womanizer Nickie Ferrante and jazz artist Terry McKay meet on their way to New York from Europe. They are both about to get married, but they cannot resist the attraction between them. They promise to each other to meet at Empire State 6 months later, after they work everything out. Their love will pass the test, if they both come to the meeting.